All enrolled students are issued a virtual parking permit each semester. All unmarked spaces are considered student spaces and require student permits. Students can park in any unmarked space in a parking lot or parking garage.
Freshmen are allowed to have vehicles and park on campus
Login to your parking account to access your virtual parking permit and add or update your license plate
Multi-vehicle registration is available for up to three vehicles for an additional $15
Parking on the grass or roadways is not allowed and will result in a citation
Only head-in parking is allowed. Reverse parking will result in a citation
Parking and transportation fees are included in the price of tuition
Parking Updates
At FIU, we care about keeping our students informed about any events that can impact parking and traffic across all FIU campuses.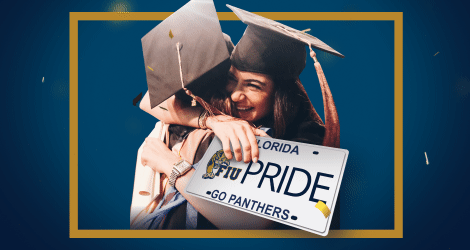 Show Your Panther Pride
Show off your school spirit with a FIU specialty license plate. All proceeds fund academic enhancement.